Foaling season is just around the corner. We offer mare care for expecting or high risk pregnant mares. We provide your mare with 24 hour surveillance monitoring, the benefit of a Foal Alert system and the presence of a veterinarian on site, should she need assistance.  Please contact us at the office to discuss options for your broodmare.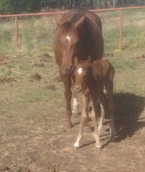 Follow us on Facebook for a live news feed of events and posts. Keep up to date on the news and events happening at Heide Veterinary Services.
Heide Veterinary Services clinic is located 1.2km south of the intersection of HW 11 and HW 20 south of Sylvan Lake, AB.